Are you tired of having to constantly come up with new content ideas for your wedding business?

You're wondering how EVERYONE else seems to be able to show up consistently and wondering

where do they get the time?
You're

sick of creating content

on social media and

no one seeing it.
You'd love to have a blog and

more couples visiting your website

but you're already overwhelmed with everything else you've got to do!
You've done and tried all the

'right things'

but feel as though

your audience and business are never going to grow.
Constant algorithm changes and

conflicting marketing advice getting you down?
You're

fed up of relying solely on social media

to promote your business and you want to have a more organised marketing strategy




IF ANY OF THIS SOUNDS LIKE YOU?


You're in the right place!


With Content Club you'll not only get expertly designed social posts, blogs, marketing and captions to make your business stand out... You'll also get training, accountability and masterclasses that will all set you apart from the crowd and have clients begging to work with you
If you have ever felt lost about what to post or say across your business marketing, this is for you!
WHAT'S INSIDE?
FOR ONLY £12.95 PER MONTH YOU'LL RECEIVE...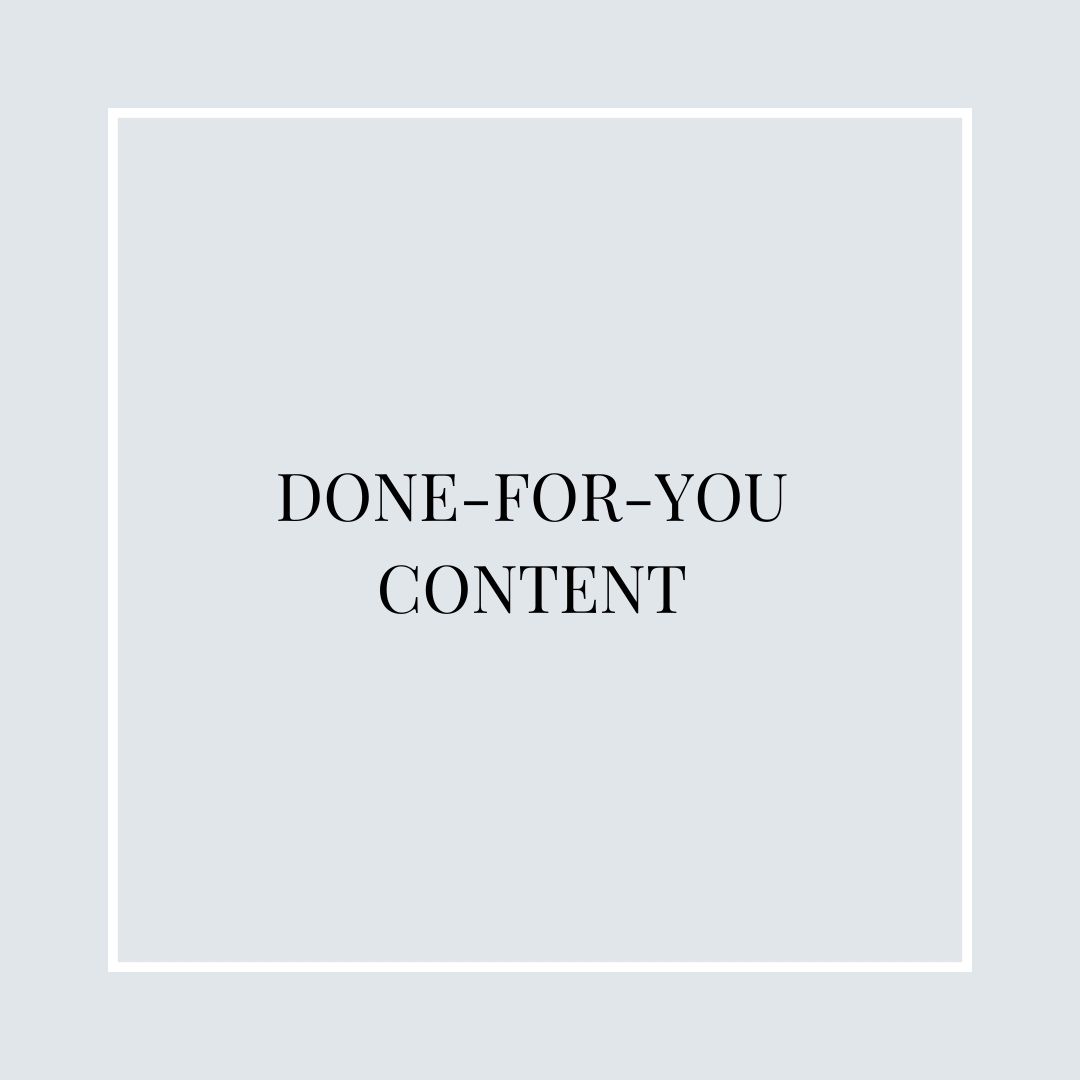 Mega Bundle Content Drops
Save precious time and stay visible on your social media and across your marketing with our fully customisable templates and marketing copy tested and proven to generate more engagement, visibility and sales for your business.
If you want a beautiful social media feed, stay present and have an engaging audience with minimal effort on your part, then we've got you covered!
Each month you'll receive:
50 Social Media Templates plus Captions
5 Wedding Planning Blogs
15 Instagram story templates
1 Carousel
1 Lead Magnet (Freebie) to grow and nurture your audience
All of this so you can focus on what you do best - serving your clients and giving them an amazing wedding day!


No long waits for content drops! It's delivered monthly everything is relevant, up to date and follows industry trends
CHANGE UNIQUE COLOURS, IMAGES AND FONTS TO MATCH YOUR BRAND STYLE
What if all of your content was as easy as Drag-and-Drop?
Let us do the hard work for you so you are able to focus on what's more important, your clients!
This content is perfect for any business inside of the wedding industry.
Wedding planners, entertainers, venues, florists, stationers, cake makers, celebrants, photographers and anyone in between.
If you sell a service or product inside of the wedding industry... This is for you!

Posting content to your Blog and Social Media alone is a schedule and not a strategy.
You'll also get access to a growing library of in depth Q&A's, masterclasses on subjects including but not limited to:
The Basics
Hashtags
Crafting The Perfect Caption
Stories

Attracting your Ideal Client

Taking your client from Look to Book

Search Engine Optimisation and Websites

Plus invitations to accountability sessions to meet you where you are and move you onto the next stage of your business.
New trainings and Masterclasses are added to the growing library as and when Content Club Members ask so that you can always find and implement what you need no matter the stage of business you are.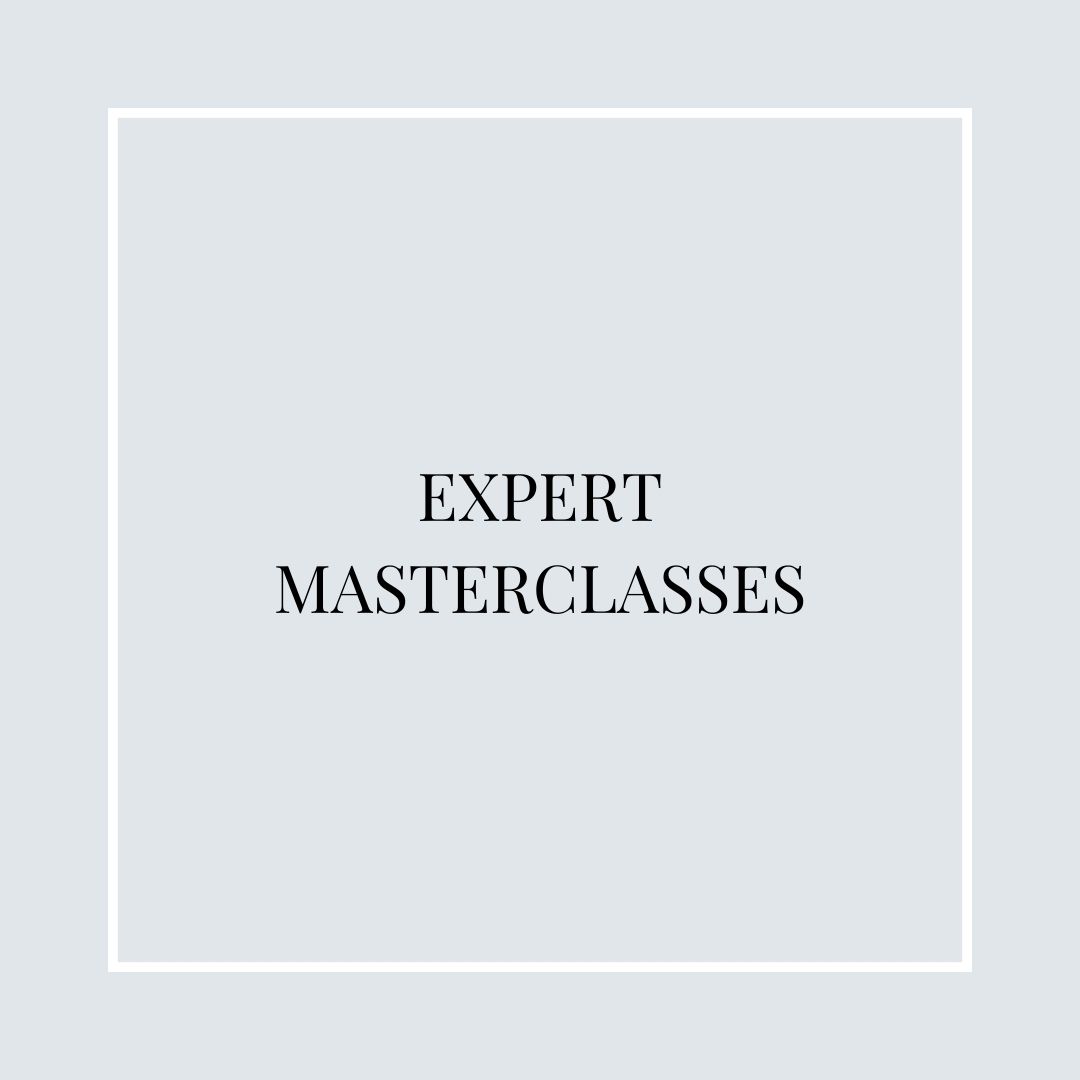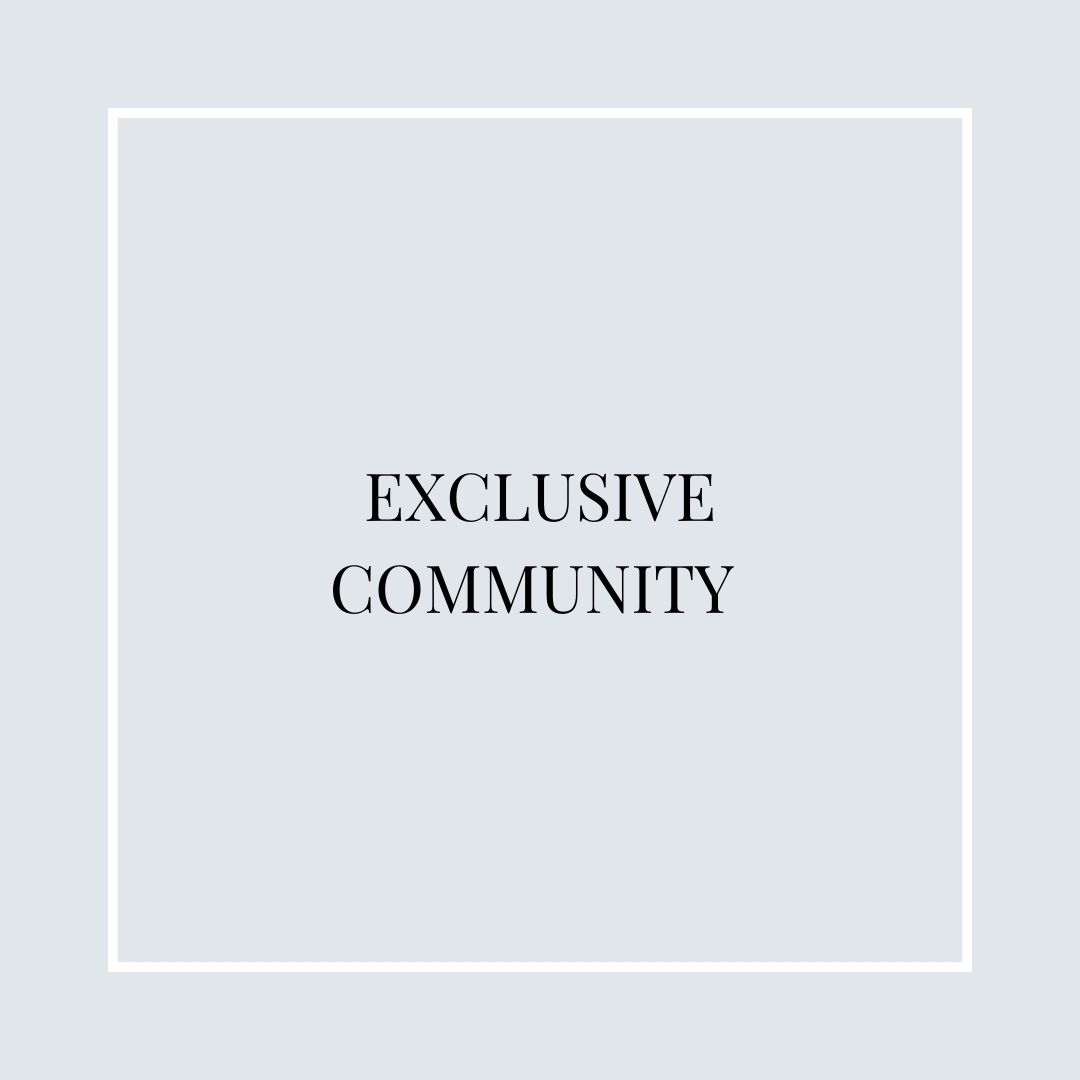 You'll also get access to like-minded wedding professionals in our members-only community so you are able to see how other business owners are utilising the content inside and making it work for their business.
It's also a space you can ask questions, share ideas and knowledge, get encouragement and... stay accountable.
Keep your finger on the pulse with the ever changing scene of business marketing and stay ahead of the competition with our content tips and advice.
There's members-only discounts you can access too.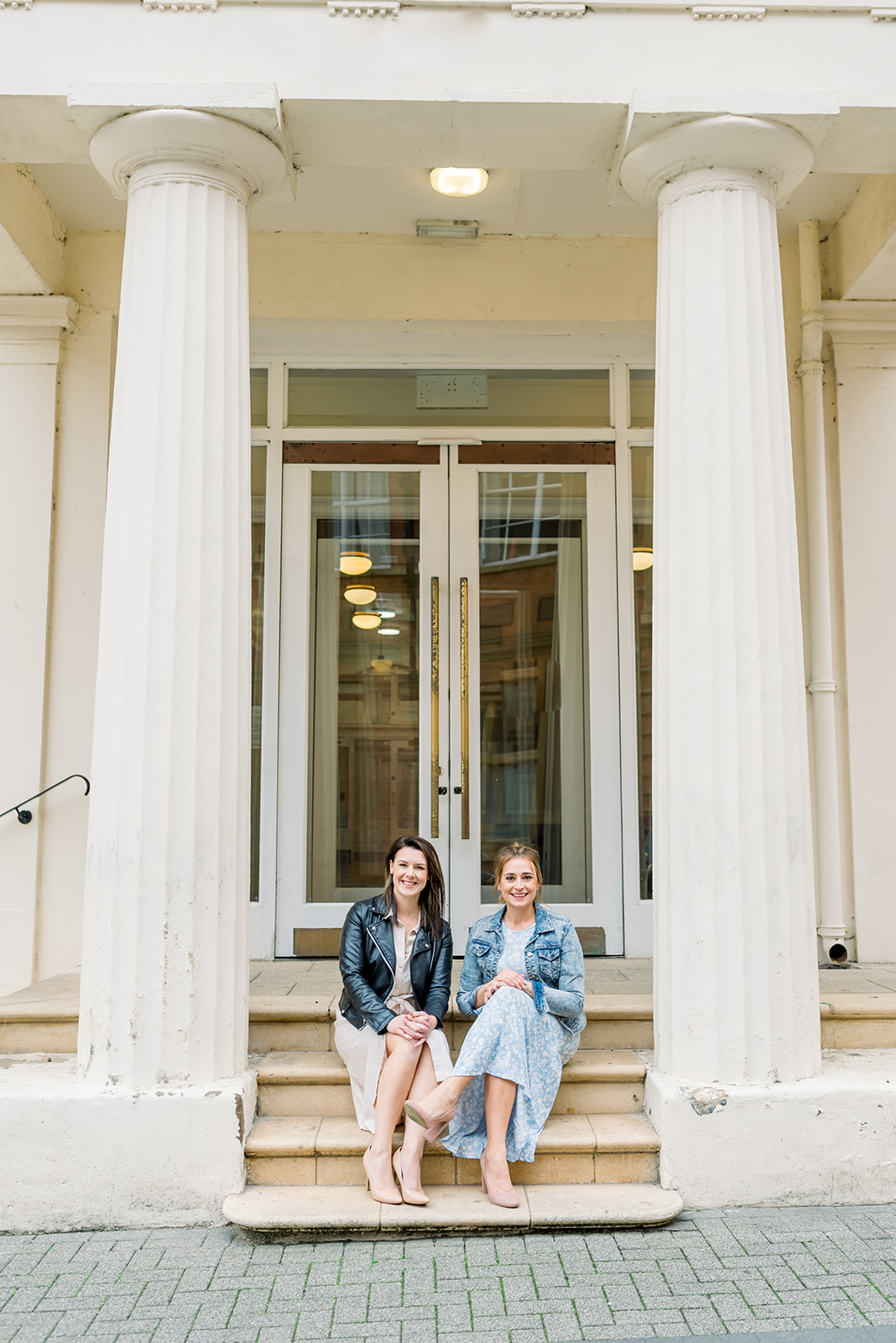 About Us
We are Katie & Roxy, business besties, wedding industry mentors, busy mums to our kids, marketing experts and Netflix addicts.


We have over 15 years wedding industry experience and marketing knowledge between us. We are fortunate enough to have built a six figure business within the wedding industry in less than 3 years by utilising the free opportunities that organic marketing gave us...that means not paid for. We used these to connect with potential customers in our local area and raise our bridal shop's profile.
Katie has won prestigious national business awards in her career winning the Natwest Business Enterprise Award which recognises excellence in business. Our wedding business has had national coverage multiple times on mainstream television programmes, we have had multiple PR opportunities and we have never paid a penny in advertising costs! We now teach other wedding business owners how to build better and more sustainable businesses, grow and monetise their social media audiences using the strategies that we have created and since perfected over our business career.
We've built a huge organisation of like-minded wedding professionals around the globe in the past 3 years and reached the top 1% of social media marketing leaders worldwide. We host worldwide networking events, are founders of wedding industry educational podcast The WedPro Podcast and we are fiercely passionate about connecting wedding suppliers together.
But most of all we have a huge love and passion for the wedding industry, sharing our knowledge and experience and seeing small business owners succeed.

NEVER stress about finding the time to have enough quality content to share with your followers, leads or website visitors again.

We've got you covered from now on!
We'll deliver a set of engaging, high quality content to you monthly with lots of bonuses too!
Designed with social media, maximum engagement and your brand in mind.
Save hundreds of hours of your time.

We have worked in the wedding industry for over 10 years and have taught thousands of wedding business owners to fine tune their marketing processes.


We know and understand the content that converts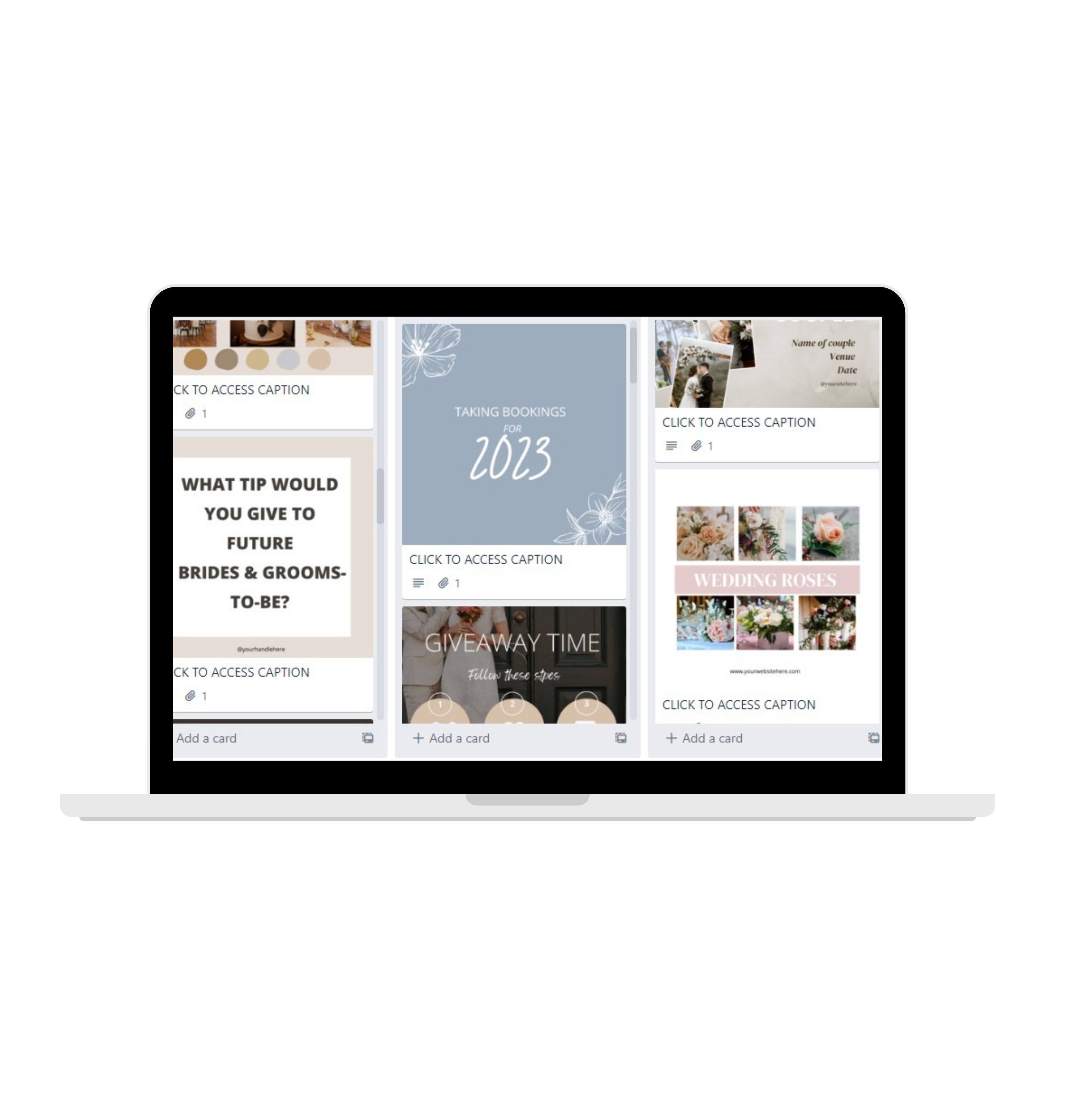 You want to create beautiful Social Media Graphics,
Share knowledgeable blogs and articles to set you up as an expert,
Grow your audience
Boost credibility
Save time and money
BUT....

You don't want to waste hours or even weeks of your time trying to figure out complicated design software and tools that end up costing hundreds of pounds a month.
You don't want to hire an expensive designer and copywriter.
You want a simple solution that will grow your audience and email list.



Spend less time creating and designing your content and more time engaging with your audience and serving your client.
Spend less time researching and writing high quality and search engine optimised blog posts.
Share content that resonates with your audience without compromising on quality.
Fast-track your workflow and have your marketing scheduled and done with a few clicks of a button allowing you to concentrate on what you do best ....... running your wedding business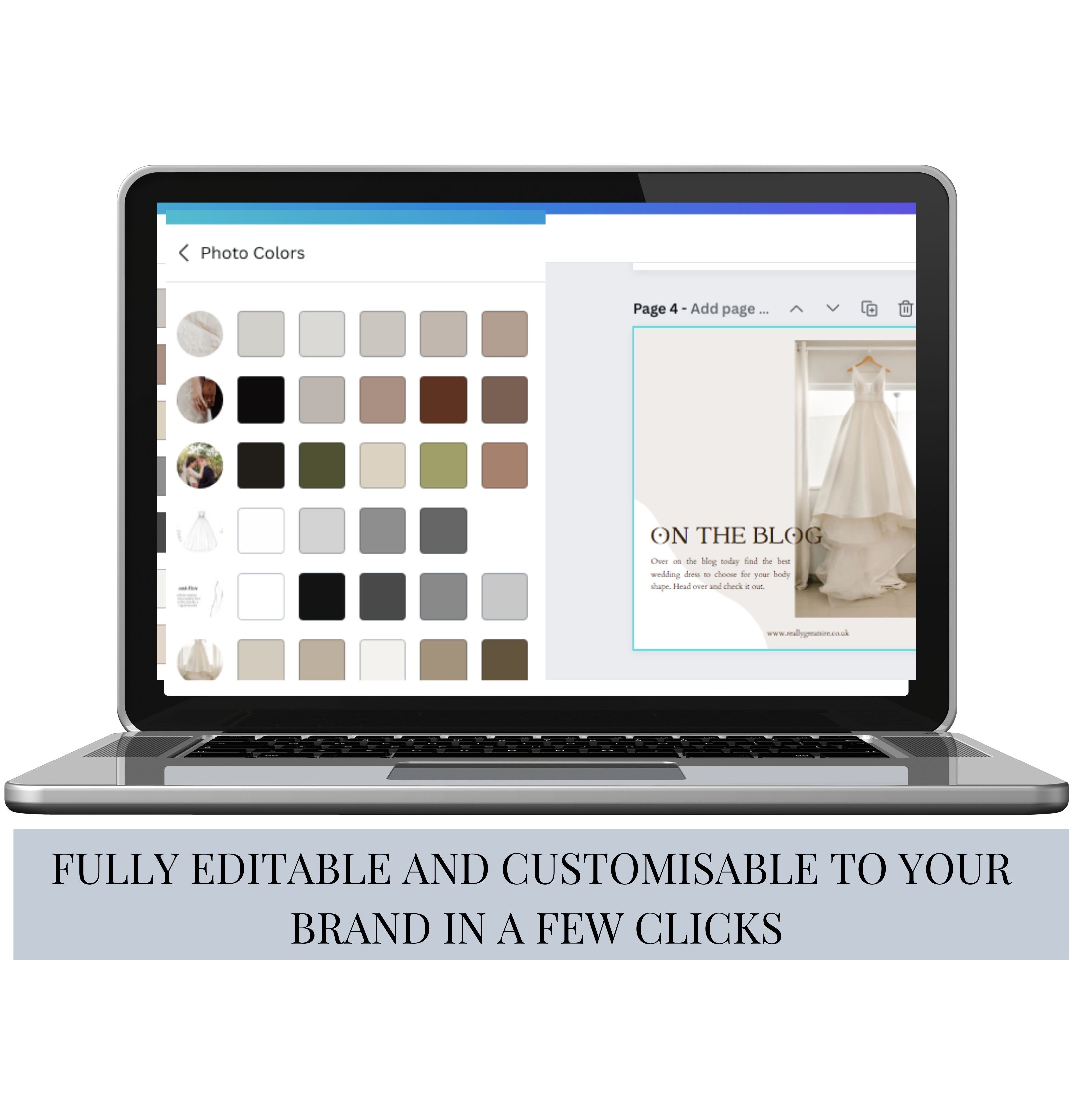 Everything you need so you can create content in less time and get back to running your business!
How can I use the content inside?
A choice of articles or blog posts for you to use on your blog, website or in your email marketing content.
50 fully customisable and editable Social Media templates with matching editable captions saving you endless time
15 editable Instagram or Facebook Templates to create know, like and trust.
1 Carousel to please the Instagram Algorithm
1 Lead Magnet to build your email marketing list

Each piece of content could also be tweaked and easily turned into a Pinterest Graphic, Ideas Pin, E-book or LinkedIn post too with one click!
THE POSSIBILITIES ARE ENDLESS
Plus guided implementation and support with our masterclasses and community
No more guessing or complex frameworks, just good solid content marketing advice and strategy

Just imagine the kind of impact and awareness you could have for your wedding business with access to all of this....

Don't just take our word for it . . .
Here's what our Content Club members think...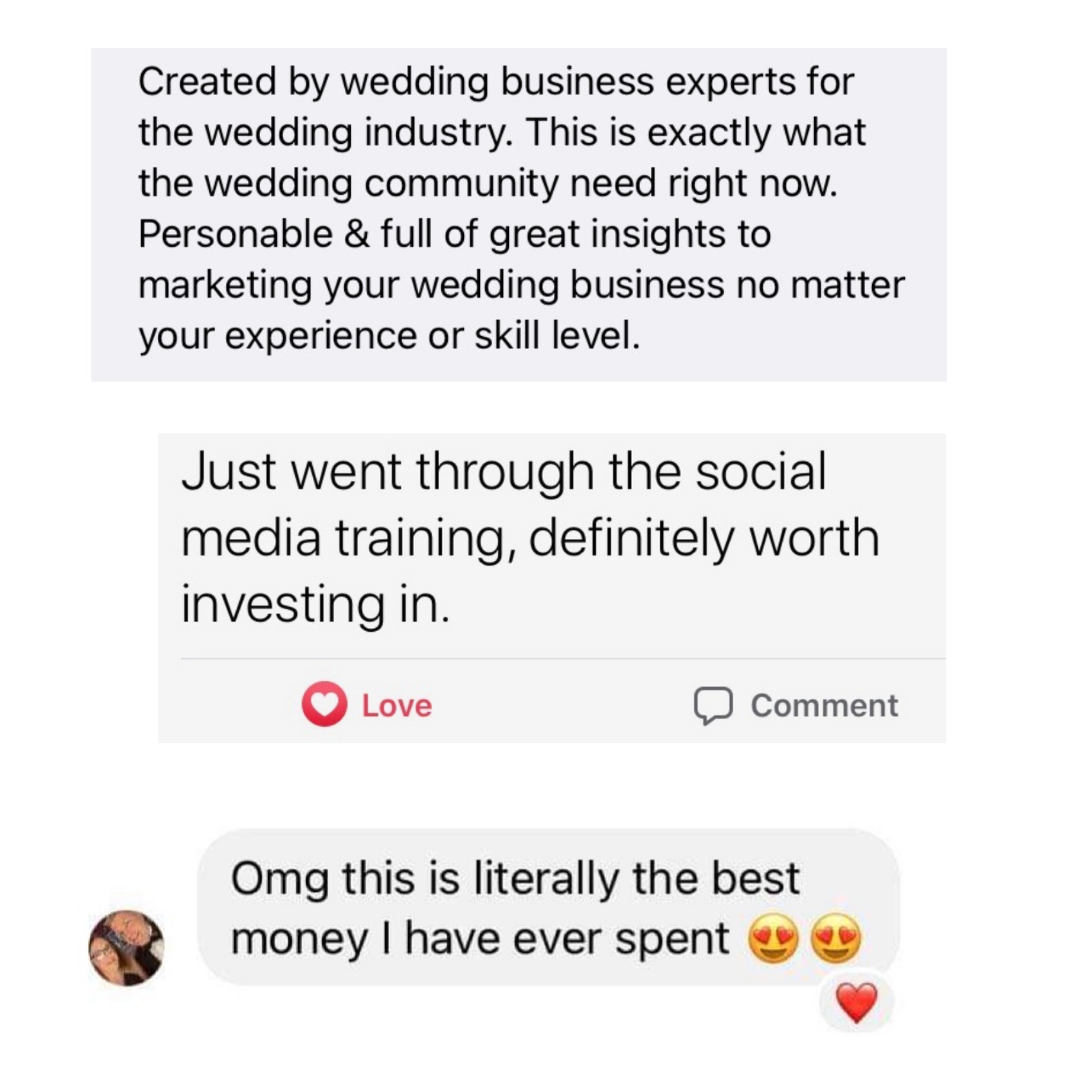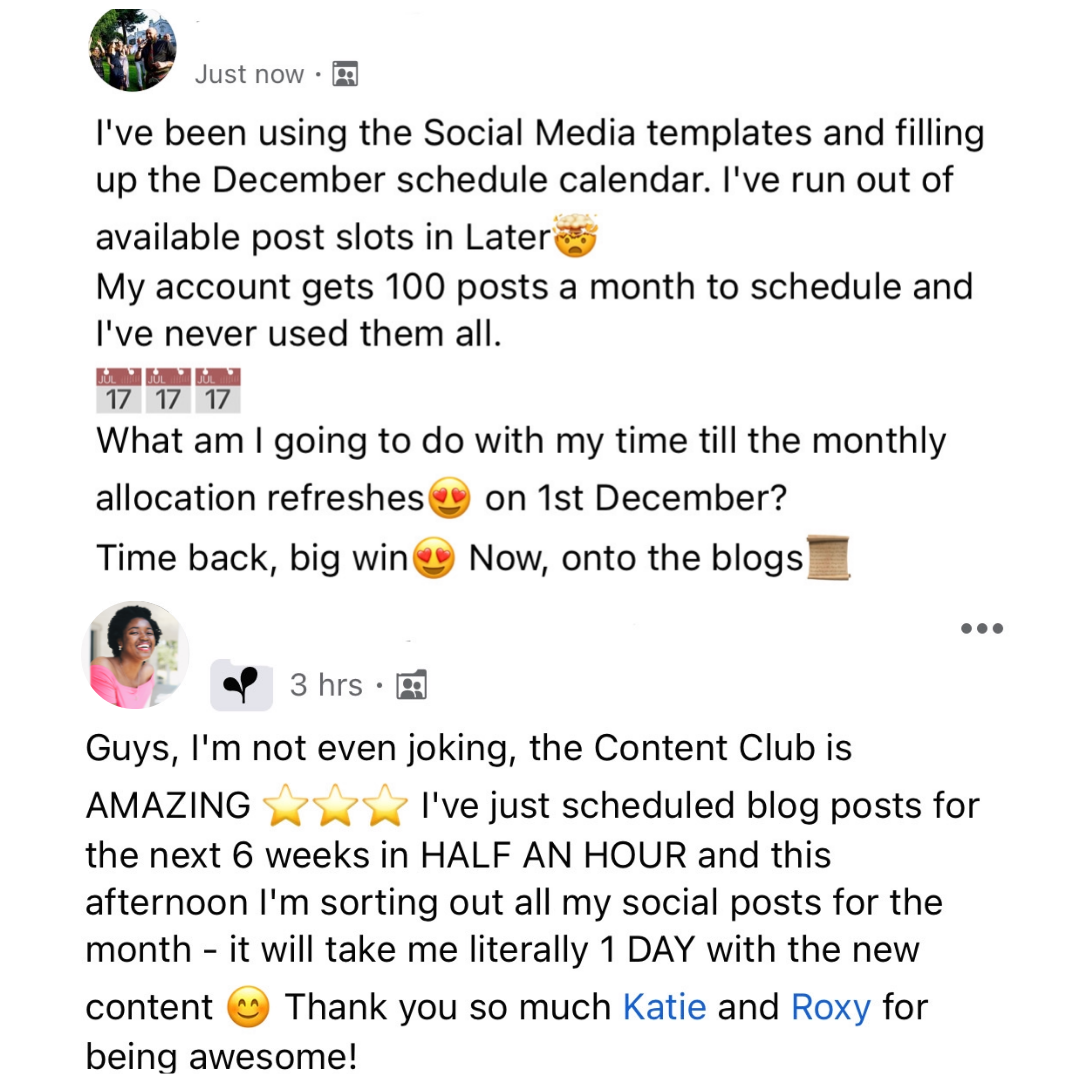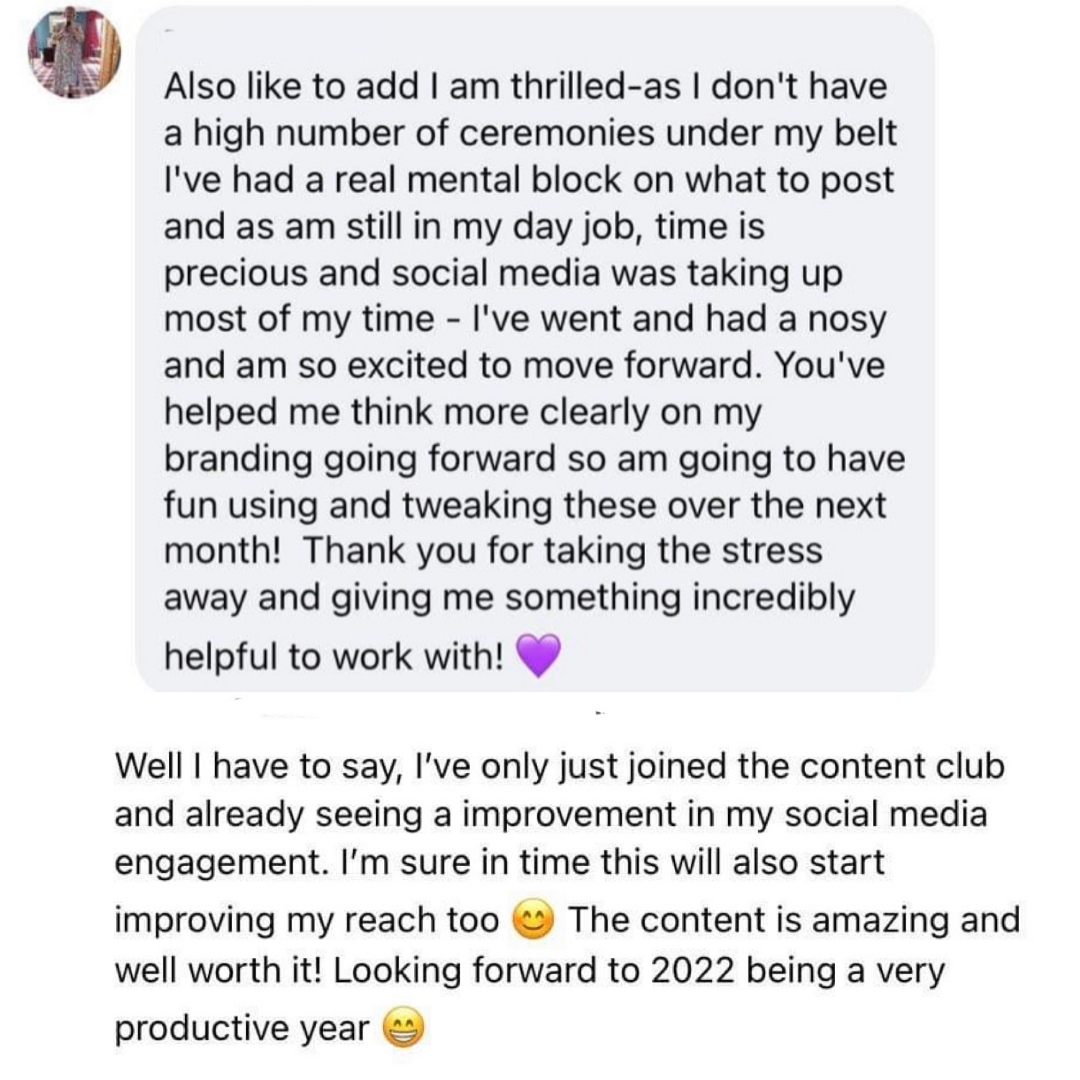 "THANK YOU!! I feel very lucky to have found Content Club. The content & masterclasses have taught me so much. I have learnt more about wedding businesses and social media in this last year, than in the last 5 and that is nearly all thanks to Katie and Roxy"
- Jane Pickering, Celebrant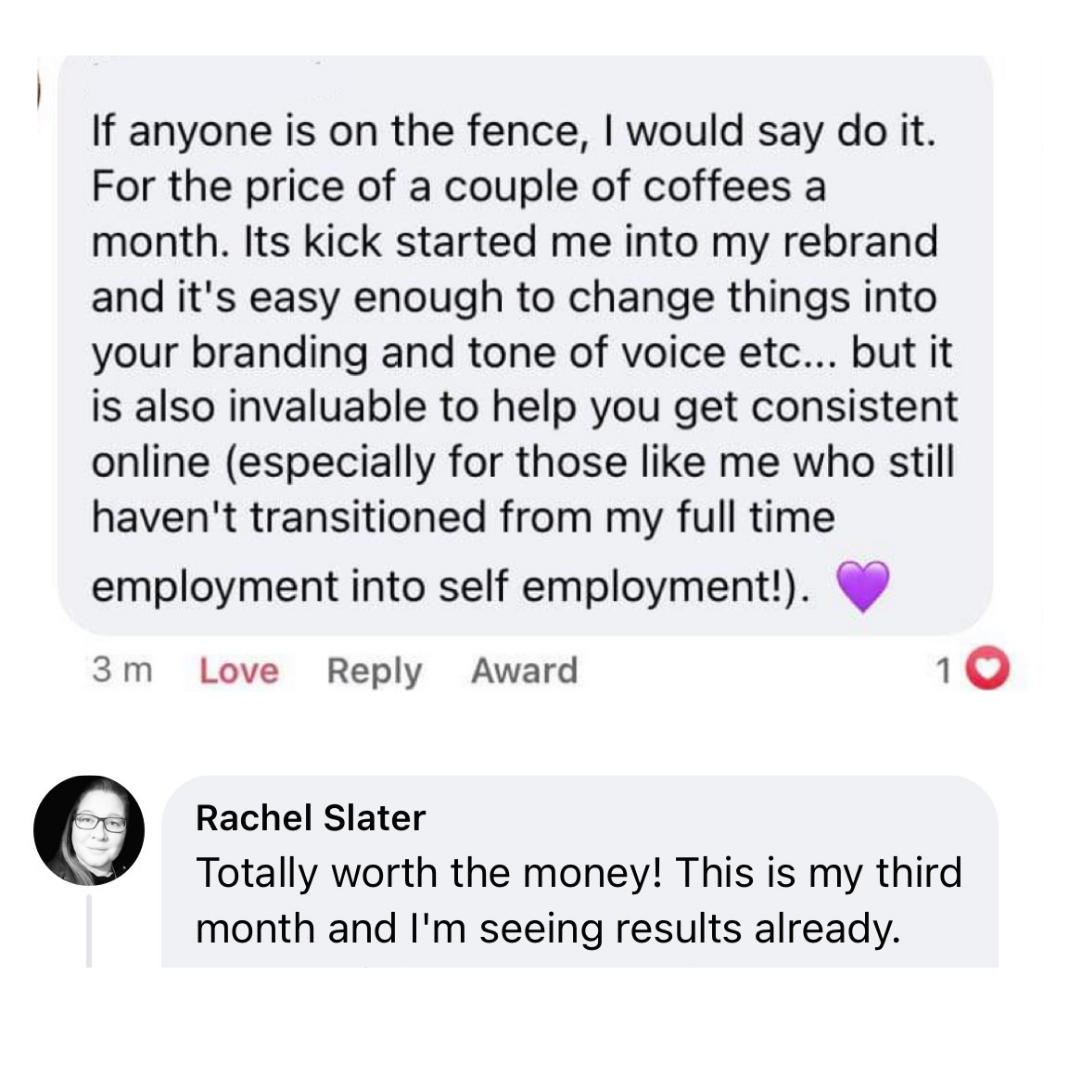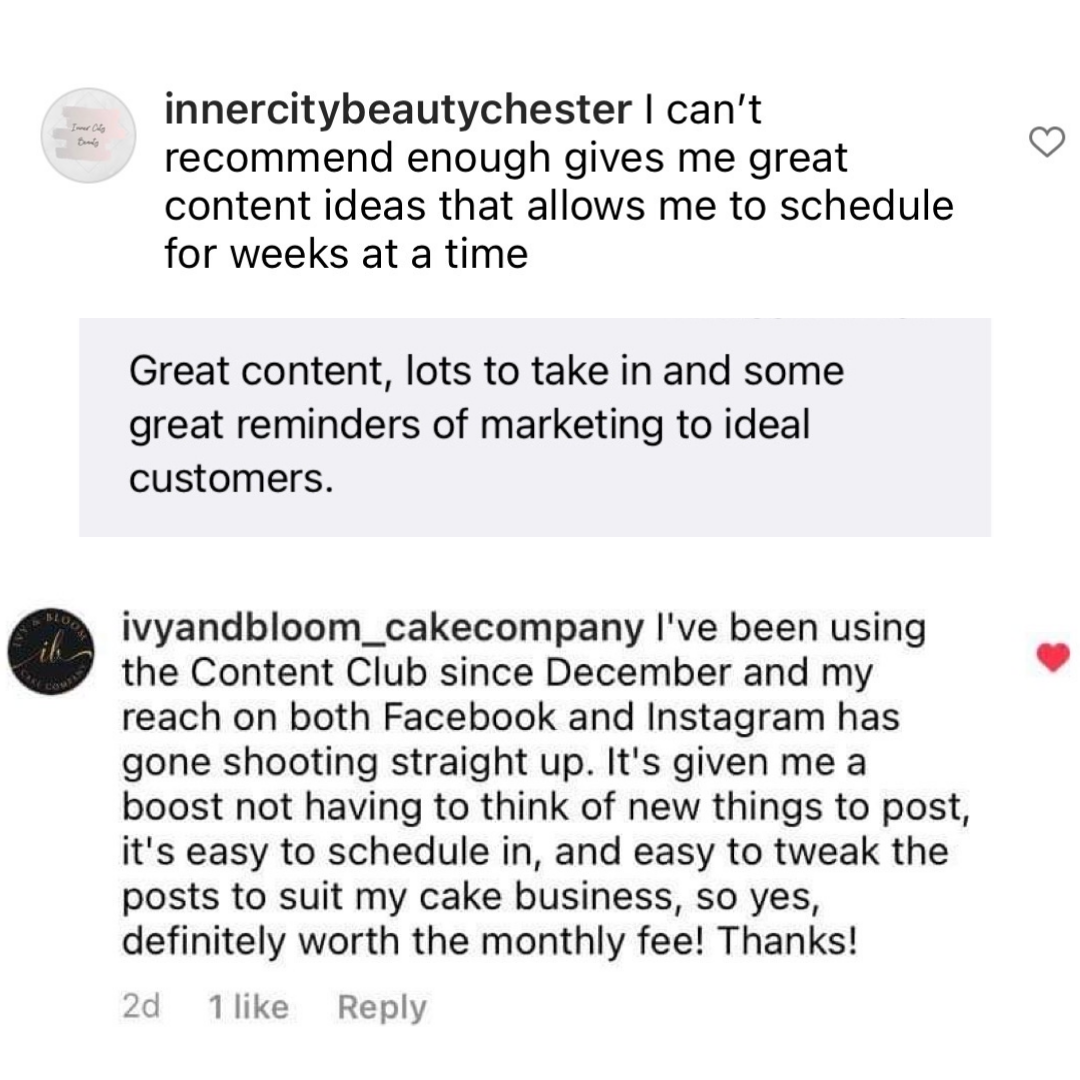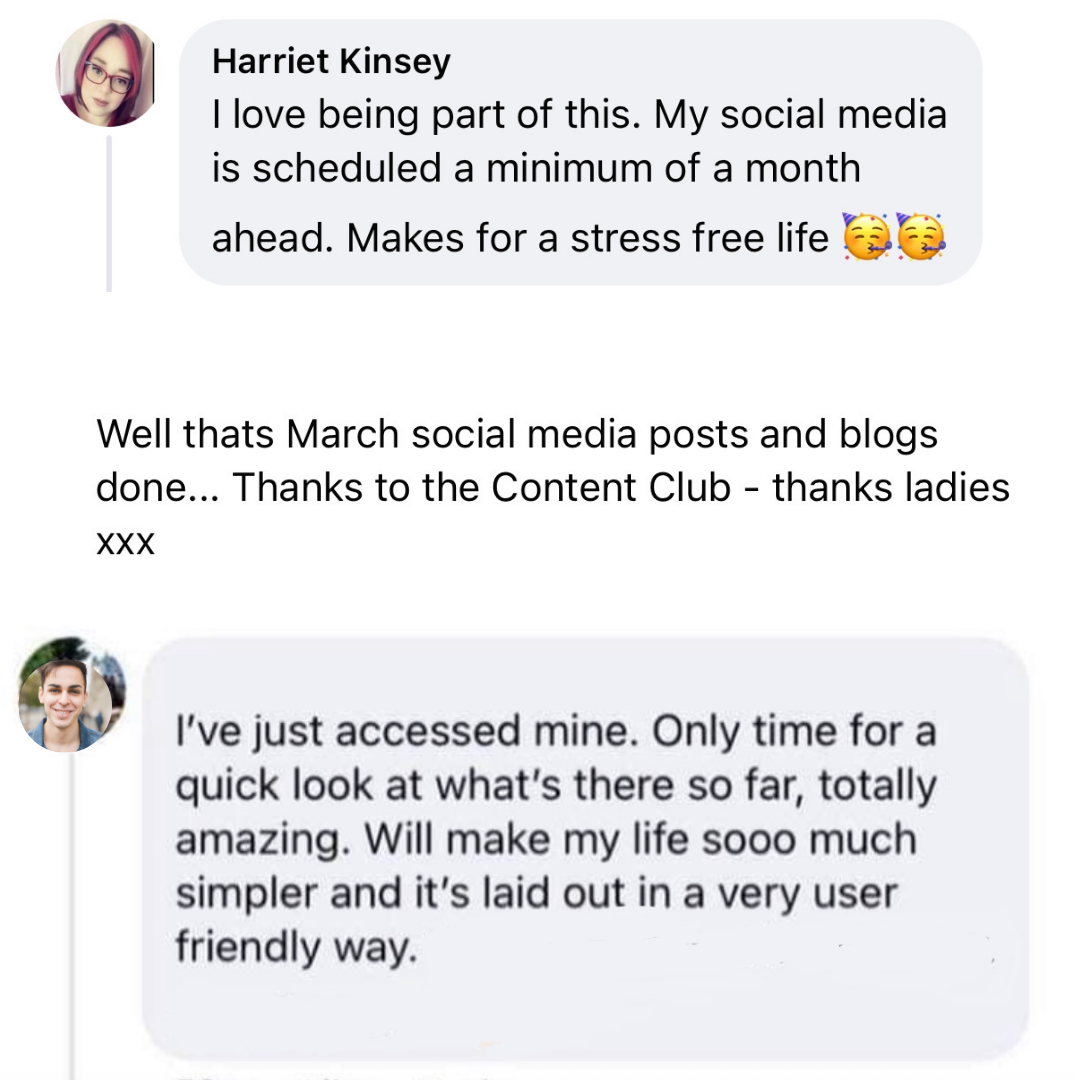 FAQ's
So I can just use the content as my own?
Absolutely! You can either post this content as your own or if you would like to, you can say that it's done with collaboration with The Wedding Industry Supplier Network. There's no need to credit us though! All content is fully editable - meaning you can brand it, change any wording, colours etc..
How will I receive the content?
You'll get instant access. Just sign into your area and you'll get access to everything inside. All content will renew on the 1st of the month.
Won't everyone have the same content?
We are opening this up to only a small number of subscribers and the content available is made new every month.
You'll have the option to change, brand, edit the content as much as you like. You can edit it to match your brand and add examples and personal stories to any blog articles and newsletters deepening your connections with your reader. Content Club members find that the content is hugely customisable and that they have choice over what posts work for their business. Although you'll have access to the same content, once you have rebranded the content and tailored the content inside to your own business or client each businesses content looks vastly different.
Duplicate content was a concern for SEO purposes years ago when spammers would produce 100 pages on their website which were all duplicated to have keywords to rank higher in search engines. This resulted in thin sites that offered no real value to users. Nowadays for the most part search engines consider 'duplicate content' to be websites that have the same content duplicated on multiple pages for the sole purpose of generating traffic. If your website has the same content as another site, incredibly rarely will it ever have an impact on search engine compatibility or rankings. Also to limit the amount of content in circulation we have a strict membership number limit. Furthermore while all of the material can be used with a simple 'copy & paste' format all articles are able to be edited and expanded upon too making the content unique.We would recommend spending a couple more minutes adding your own voice to the articles - such as adding your own stories, examples, links to previous work or even combine articles together to form your own unique piece. It takes very little work to create your own original content using the membership content as a foundation and will still save you countless hours of time writing and researching compared with the process of writing from scratch.